Sword in the Stone's Director of Operations & Marketing and Online Community Manager John Dawe was recently tapped by Wizards of the Coast (the company that owns the brands Magic: the Gathering and Dungeons & Dragons) to bring his perspective and advice to their nearly 6,000 Wizards Play Network members. The article and a link to the original appears below.
By John W. Dawe, MNA, CNP, CFRE, director of marketing and operations and online community manager for Sword in the Stone Games.
The COVID-19 pandemic's call for social distancing and postponement/cancellation of events has prompted businesses of all sizes and shapes to rethink their strategies, how they keep revenue flowing, and keep their communities connected.
Here are five ways your shop can make the best of the current situation and shine through for your customers and communities.
Reinforce your brand.
Your brand is a promise wrapped in a consistent experience. Every single interaction that someone has with your brand should elicit the same feeling. Doing that brand remotely can be easier than in person—you have the opportunity to review your post and ask yourself, "Does that reflect our brand?"
If your shop is like ours, it's not just a retail establishment. It's a second home. We welcome everyone who comes in as a member of the family. So when fears of COVID-19 began, we took special care to reinforce the "family" brand. All our communications have sounded like a family letter.
Whatever your brand, make sure it busts through loud and clear. Here are some examples: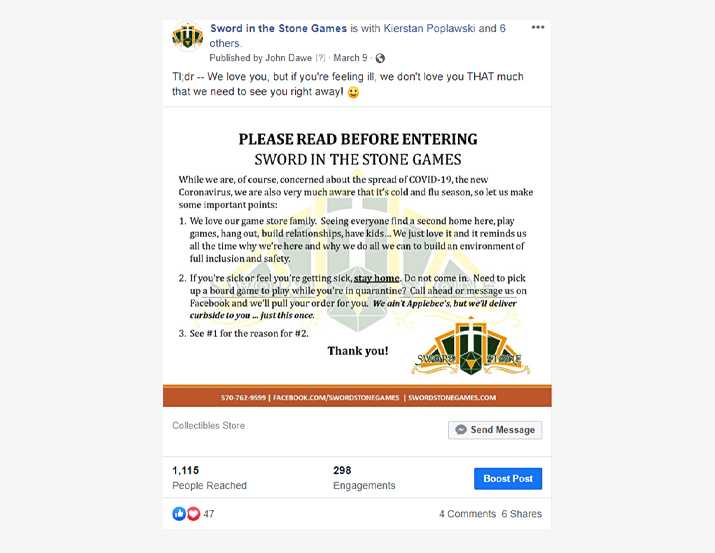 A week before we closed, we posted this everywhere including on our shop door: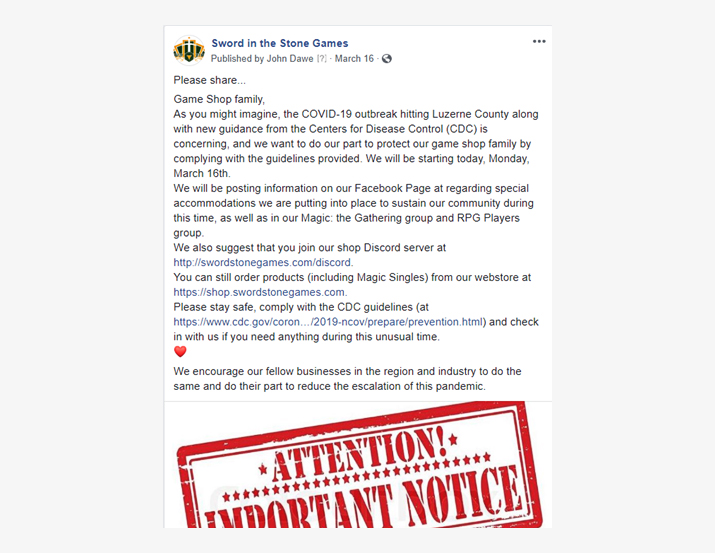 Recreate your shop community on Discord.
In addition to the channels recommended by the WPN Template, be sure to include an #introductions channel, a text/voice channel for every group that traditionally meets in person, and plenty of text/voice channels for "game tables."
We've found our community wanted fandom groups for non-game related topics (movies, TV shows, that sort of thing), plus we added a #random channel.
Not everyone will make the jump to a Discord server, so be sure to keep posting on your regular Facebook page and in any groups to check on your community.
Dedicate at least 50% of your time to online sales.
Cash flow is important! Learning an ecommerce system can be a lot of work, so designate a team member to help update your online store presence or create one.
Focus on the important things first, including preorders for Ikoria, entry fees for your "in exile" events on MTG Arena, Zoom, or Discord. And if you sell on websites that aren't your own, make sure you're keeping up on listing and filling orders.
Consider integrating your online store with a service like Printful that allows you to create and sell your own logo ware like t-shirts, hats, mugs, and even face masks—shipped from their facility.
Use every possible opportunity from the WPN and the government.
The WPN has rolled out a lot of stuff you can take advantage of, including promotional codes for FNM at Home events, which we give out via Discord. We're also sharing the availability of the Buy-a-Box MTG Arena Swag Bag promotion everywhere, and we've presold a healthy number of boxes as a result.
Make sure you are familiar with any government relief programs in your part of the world, and tell those associated with your business as well. In some cases, you can get loans to help with payroll costs or rent, and your staff members may qualify for unemployment assistance.
Be sure to keep those communication lines open.
Remember that local game stores have some competitive advantages.
It's important to remember that local game stores have a two main competitive advantages over other kinds of retail (specifically, retail that doesn't do in-store play).
First, you're the home away from home. You know that Ryan plays Commander and loves foil cards, that Kierstan has loved dinosaurs since she was in preschool and has a Gishath deck to match, that Steve only plays gnome sorcerers in D&D.
And second, as an independent operation, you can pivot and make decisions quickly, you're at your store regularly, and able to look at needs, take in input, and make a decision. Flexibility in times like these is an asset not to be ignored!
John W. Dawe, MNA, CNP, CFRE is director of marketing and operations and online community manager for Sword in the Stone Games. He has written for publications such Advancing Philanthropy, Practical eCommerce, and eBiz Insider. He has seen every single episode of Star Trek (every series) multiple times. He can be reached online at @johndawe on Facebook, Instagram, Twitter, and LinkedIn and at john@daweconsulting.com.