Magic the Gathering cEDH Frundraiser Tournament: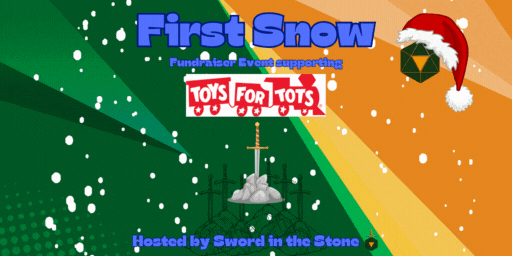 You've been formally invited to join us for this donation focused event. As gamers we have a strong community that comes together in times of need and at this time of year there are always people in need of help to make their holidays special. As such we are making this a donation focused event where entry fees are covered by your donations to Toys for Tots.
Donations can be in 2 forms. Toys or Cash.
For toys we ask for donations to be unwrapped toys totaling a value of $25 or more per entrant. You can donate multiple toys or just one so long as it meets the criteria.
Toys meant for children 9-13 are the most needed for both boys and girls.
Cash donations can be made by donating through sword in the stone which will go to Toys for Tots directly. More donations can be made in store in which case we will have a QR code available in store to use to do so.
All event ticket proceeds are being directly donated to Toys for Tots Luzerne County to help support our local community at large to have an amazing holiday!
Sword in the Stone

29 Wyoming Valley Mall 
Unit 540 
Wilkes-Barre Twp Pa 18702
The 2024 TopDeck Champion Series Bronze level event – First Snow, Fundraiser for Toys for Tots
🏆 CASH PRIZES 🏆 plus Exciting DOOR PRIZES await you!
📅 Date: December 17th, 2023
🕘 Doors Open/Registration: 9:00 AM
🕙 Player Meeting: 10:00 AM
🕥 Round 1 Starts: 10:30 AM
🔥 What to Expect: 🔥
🎉 $300 in CASH PRIZES:
🥇 1st Place: $300
🥈 2nd Place-4th Place: $100 in store credit
💎 DOOR PRIZES:
🎁 Exclusive Magic: The Gathering Merchandise
ADDITIONAL INFO:
No 3 or 5 person pods allowed(Pods of 4 only, byes allowed)
80 minute rounds
4 rounds swiss no turns.(active player finishes their turn)
Cut to top 4. (final table are not timed)
Wins are 5 points, draws are 1 point, byes count as a win.
Proxy cards are allowed and are unlimited but there is a limit to 10 MDFC proxies. MDFC
cards will require full text, mana cost, card type(s) and name. Proxy cards that are not
MDFC need to be full color and utilize recognizable art.
Join us for this event as we all come together to help donate to an amazing cause
Secure your spot today! 32 person cap